---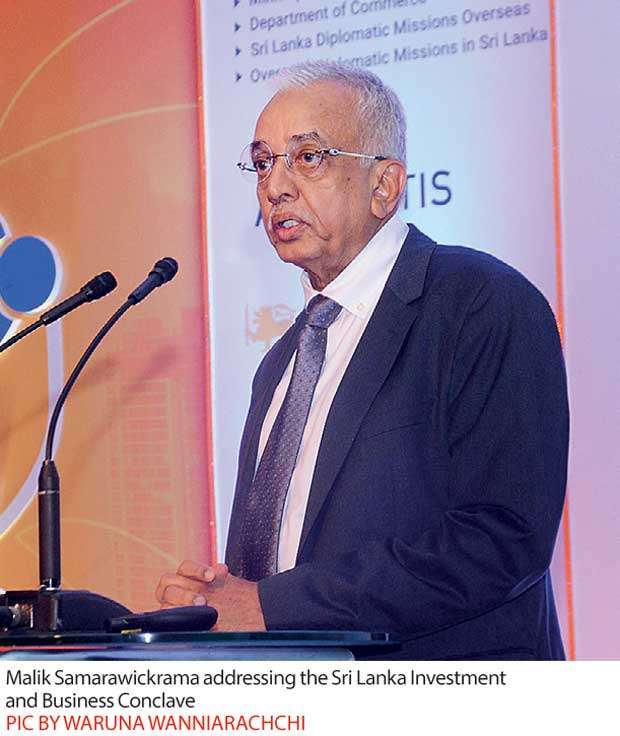 ETCA negotiations with India to end this year
FTA negotiations with Thailand to begin next month
New tax law offers incentives to genuine investors
Govt. committed to trade liberalisation
By Nishel Fernando
Despite setbacks, Sri Lanka is determined to conclude negotiations on the Economic and Technology Co-operation Agreement (ETCA) with India at the end of this year to reach a final agreement, while plans are underway to commence FTA negotiations with Thailand next month, targeted to be concluded in 2020.
Development Strategies and International Trade Minister Malik Samarawickrama said this addressing the third annual Sri Lanka Investment and Business Conclave organised by the Ceylon Chamber of Commerce in Colombo yesterday.

Sri Lanka has already commenced a joint feasibility study with Bangladesh for a potential FTA, while feasibility studies are set to commence soon for the proposed FTAs with Malaysia and Indonesia.

In an attempt lure over 100 investors to be present at the event from over 20 countries, Samarawickrama expressed his confidence that many foreign investors will soon capitalise on the country's location as a "spring-board" to gain access to markets across South Asia, Europe and Africa by setting up their operations in Sri Lanka.

"Of course we are aware that location alone is not enough. Our government is very much y focused on improving the investment climate, reducing the burden on investors," he said.

While noting that Sri Lanka is progressing on the World Bank's Ease of Doing Business index with the setting up of ten task forces, Samarawickrama emphasised that Sri Lanka's corporate tax rates, income tax rates as well as incentive schemes remain very attractive to foreign investors.

"The top rate of corporate tax in Sri Lanka is lower than that of India, Bangladesh, Mexico and Brazil while the top rate of personal income tax is now lower than in all of these countries plus Thailand and Vietnam," he noted.
Samarawickrama also noted that despite the popular misconception, the new Inland Revenue Act, which came into effect last April, offers attractive incentives for genuine investors.

Addressing the same event, Finance and Mass Media Minister Mangala Samaraweera highlighted the government's commitment to trade liberalisation.

He reiterated that the government would remove para-traiiffs on 2,400 products within the next two years, while para-tariffs on 1,200 goods will be removed initially.
Samaraweera insisted that the Sri Lankan economy is stabilised now, recovering from the debt-financed economic model of the previous government. He asserted that the current government is dedicated to creating a level playing field for all stakeholders with ambitions to integrate with the regional and global value chains.