---
Colombo's iconic landmark and the single, largest, private mixed development investment in Sri Lanka, Cinnamon Life by the John Keells group, has resumed construction after a lockdown since March 2020.

An inspection to the Cinnamon Life construction site was made by Chief Public Health Inspector Dr. R.L. De S. Wijayamuni and other public health inspectors, to assess the health and safety standards that have been introduced at the site.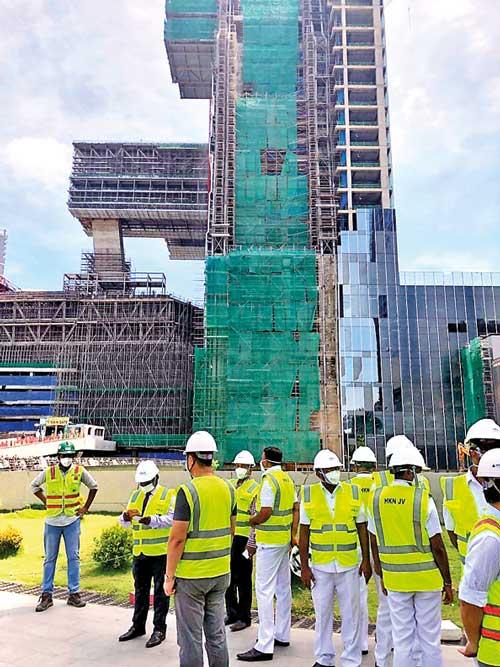 Construction resumed following a holistic approach to sanitation and social distancing norms required in relation to the site, which commenced operation with 500 workers.

Temperature checks and scans, routine hygiene checks, staggering of work and enhanced sanitary measures, are among the steps taken for workers on-site, along with strict guidelines for the usage of lifts, cafeteria and other gathering areas.

Wijayamuni commended Cinnamon Life for the initiation of resuming construction with such a high standard of safety. "My team and I paid a visit to the construction site of the largest tourism development in Colombo and approved the resumption of operations after a standstill in construction for several months.
This was based on the extremely careful and vigilant measures taken by the management of Cinnamon Life, the progress made thus far and the importance of completing this project. The steps taken by Cinnamon Life to resume the construction is commendable and is a good case study to benchmark in the new post-COVID landscape,'' said Wijayamuni. Commenting on the resumption of work, John Keells Holding Property Sector President Suresh Rajendra stated, "The decision to resume operations was taken with careful consideration of the health and safety of our staff. This is our foremost priority. We are also making active efforts towards minimising supply chain disruption, increasing productivity and on-site safety and sanitary measures, as we work closely with our partners and the medical officials to abide by all regulations."

Cinnamon Life, the iconic 4.5 million sq. ft. integrated mixed-use development, is a city within a city and is envisioned to be the epicentre of modern South Asia.

With 10 acres of integrated spaces, Cinnamon Life, designed by globally-acclaimed master architect Cecil Balmond, will consist of a luxury 800-room five-star hotel, 427 premium residential apartments, a 30-storey office complex, five storeys of retail and unlimited entertainment.