---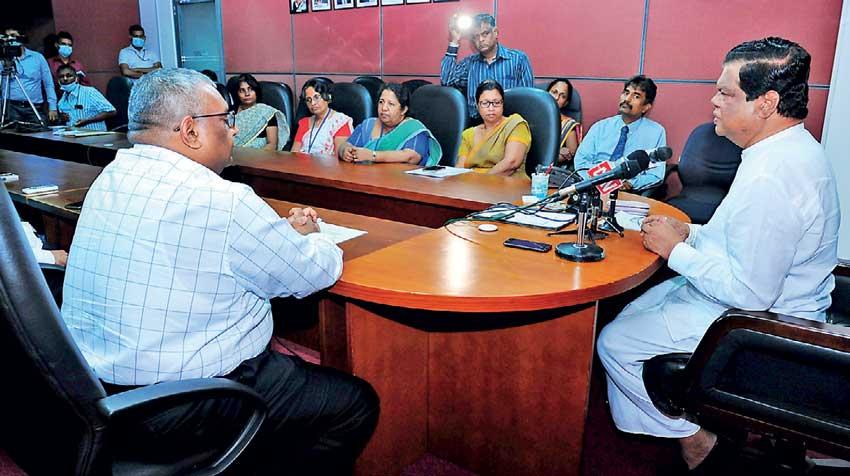 Minister Gunawardena during his maiden discussion with EDB's top management headed by Chairman Prabhash Subasinghe
Trade Minister Bandula Gunawardena made his inaugural visit to the Sri Lanka Export Development Board (EDB) recently since assuming office and met the key officials of the institution.

During his maiden discussion with the EDB's top management, the Minister proposed the establishment of a coordination mechanism between the EDB and the new state ministries appointed by the government on various product and industry sectors with the objective of enhancing their export potential. "Sri Lanka's exports have remained static at US$ 10 to 11 billion mark and thus, it is necessary to adopt an out-of-box mindset to increase the country's exports with a special emphasis on
SMEs," he noted.

He also urged the Board to establish 1000 Export Processing Villages nationwide by incorporating them as limited liability companies with the EDB providing seed capital similar to the model of Dambadeniya Export Development Village which was initiated in the 80's. He assured to get funds for this initiative
from the government.

Meanwhile, the Minister pledged to immediately revive the Export Development Council of Ministers which has not met for more than 20 years.

The EDB Act 1979 provides for a council of ministers, headed by President, comprising ministers in charge of trade, shipping, industries, agriculture, finance, etc.
Gunawardena was optimistic that bringing this abandoned mechanism back into life could resolve the issues faced by the exporter community expeditiously, as it enables high-level, cross-government consideration towards exports.

EDB Director General Chitranjali Dissanayake briefed the Minister about the board's activities, future plans and the progress of the National Export Strategy (2018-22).

Addressing the media later, Gunawardena expressed his satisfaction on the recovery of exports, with merchandize exports in July earning US$ 1090.18 million, recording a gain of 11.31 percent compared to July 2019 amidst unfavourable global market conditions.

He attributed this recovery to the pragmatic leadership of the and the government in terms of managing the COVID-19 situation exceptionally well, enabling the country's economic activities to return into normalcy. The meeting was attended by the officials of the Trade Ministry, EDB Chairman Prabhash Subasinghe and EDB directors.