---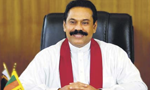 President Mahinda Rajapaksa, as Minister of Finance and Planning, will on Friday present his Government's Budget for 2015, to Parliament.
The Second Reading of the Budget will commence on October 25 and continue till November 1.The vote on the Second Reading will be taken on the evening of November 1.
The Third Reading will commence on November 3 and continue till November 24.