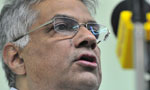 Prime Minister Ranil Wickremesinghe, on the sidelines of his visit to Guruvayur temple in India on Saturday, said that measures would be taken to solve the issues plaguing the fishermen community in India.
"There are no classifications like Indian fishermen, Sri Lankan fishermen or Tamil fishermen. All of them are treated alike," he said.
The Lankan PM had earlier made a controversial statement justifying shooting of Indian fishermen if they intruded into Lankan waters.
"With ongoing bilateral talks between India and Sri Lanka, we hope to develop a closer cooperation and working relationship between the two nations."
His last visit to offer prayers had been on December before he was elected as the Prime Minister in January.
"This is a sort of thanksgiving visit for me," he said.
(Indian Express)