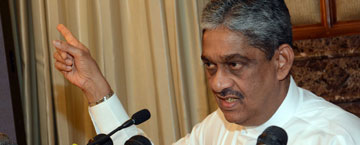 Field Marshal Sarath Fonseka today displayed several photographs of families of the Justice Minister Wijeyadasa Rajapakshe and Avant Garde Chairman Nissanka Senadhipathi enjoying a holiday in Disneyland, California and also said they are taking measure to arrest the Attorney General as well on his retirement.
He said there was enough evidence to prove Minister Wijeyadasa Rajapaksa and Senadhipathi are close friends and that was why the Minister was always attempting to protect the Avant Garde Company.
"Earlier, too we claimed that the two are friends but the Minister made no attempt to deny these allegations. We challenge the minister to reject these photos if he can or to say that there had not been such relationship with Avant Garde Chairman," he said.
He also said that a few, including the justice minister were attempting to protect the maritime company when a number of others who had contributed to the January 8 silent revaluation inclusive of himself, ministers Rajitha Senaratne, Patali Champika Ranawka and Arjuna Ranatunga as well as former president Chandrika Bandaranaike Kumaratunga speaking the truth on the company.
Fonseka denied having any relationship with Nissanka Senadhipathi or having accepting any money from him. "We have spoken only once via phone. We have never met. He claims that he offered Rs. 30 million to me, which is not true. If I wanted to accept money from others, I would have accepted the offer made by former president Mahind Rajapaksa to give Rs. 2,000 million and a 100 acre coconut land during the presidential election," he said.
The pictures which were taken nine years ago show the two families with the Rajapakse and Senadipathi are seen together in limos, taking rides and having meals.
(Darshana Sanjeewa)