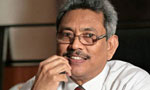 In an intial statement to the CID, former Defense Secretary Gotabaya Rajapaksa said it was he who had approved the issuance of automatic weapons to Rakna Arakshaka Lanka Limited and to the Avant Garde floating armoury in the Galle Port, Police said today.
His statement was recorded by the CID last week in connection with the activities of the two armouries which were recently checked by the police.
A three-member CID team which visited Mr. Rajapaksa's residence to record his statement was told that he neede ample time to study the relevant documents prior to making a proper statement.
He was reported to have told the detectives that he would give a statement next week at a time he found convenient to do so.
When asked whether the detectives had accorded any special privilege to Mr. Rajapaksa visiting his residence instead of summoning him to the CID office to record the statement, Police Spokesman Ajith Rohana said there was nothing wrong in the CID visiting somebody to record a statement.
He said the CID wanted to learn about an approval given by the former Defense Secretary and as such there was no necessity to summon him to the CID office.
SSP Rohana said the detectives would next obtain information on the weapons procurement procedure adopted by these armouries.
(Kevin Kariyawasam)