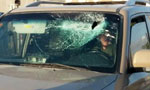 Police are seeking to arrest a gang of hooligans that caused mayhem by pelting stones at moving vehicles on the E1 Southern Expressway near Gelanigama on Tuesday night, causing serious damage to eight cars.
Eight motorists had lodged complaints with both the Gelanigama Interchange Police Post and the Kalutara North Police that an unknown gang had pelted stones at their cars when they were bound for Colombo from Galle.
The windscreens, rear windows and side windows (on the left sides) of the vehicles had been shattered by the stones, according to the complaints.
Police spokesman ASP Ruwan Gunasekara said that so far the police have learnt that a group under the influence of liquor had broken through the safety fence and entered the expressway and pelted stones at the vehicles with no apparent motive.
Police have identified the suspects, and a team has been deployed to arrest them. They had meanwhile apparently left the area.
The suspects had reportedly attended a party at house close by the expressway on Tuesday night, the ASP said.
(Kurulu Koojana Kariyakarawana)