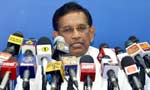 The US Federal Reserve in Washington DC, has given an undertaking to Sri Lanka that it would conduct a thorough inquiry on the illegal dollar deposits of Sri Lankans and provide all information with the amount hoarded and the names of account holders, Cabinet spokesman and Minister Dr. Rajitha Senaratne said.
He told the weekly cabinet news briefing yesterday that the government had information that three persons close to the Mahinda Rajapaksa regime had deposited nearly US$ 3 billion in banks in Dubai and Ukraine.
"One, a member of the Rajapaksa family has allegedly deposited US$ 1.086 billion, another person closely related to the former first family has deposited US$ 1.8 billion and a powerful Secretary and a former chairman of a leading state establishment has deposited US$ 500 million according to information we have access to," Minister Senaratne said.
Responding to a journalist on the delay in apprehending and prosecuting those who have allegedly amassed ill lucre in foreign banks, Minister Senaratne said it will take a few more months for the US Federal Reserve to give Sri Lankan government a detailed report on alleged money laundering.
"It will happen for sure. But the problem is the US Central Bank receives hundreds if not thousands of similar complaints from all over the world daily. Therefore, it takes time. But it has responded positively to our request as the US Federal Reserve monitor each and every dollar it prints and in circulation all over the world," he stressed.
(Sandun A Jayasekera)