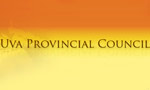 A request by the Mahiyangana electorate UNP organizer to restrain the UNP leadership from naming members to the vacant position in the Uva Provincial Council was rejected by Colombo District Judge T. D. Gunasekera today.
The petitioner, Prof. K.P.A. Pradeep Wijewardena said he was voted to the ninth place in the last Uva Provincial Council Election for Badulla District.
He said the UNP had nominated eight other members respectively from 1 to 8 in the list to various posts in the Uva Provincial Council and told that the UNP leadership was now planning to name those who attained the tenth and eleventh places to the Provincial Council without selecting the petitioner who had obtained the ninth position in the preferential vote list.
The petitioner requested the Judge to restrain UNP leader Ranil Wickremesinghe, party Secretary Kabir Hassim and the Election Commissioner from nominating members to the Uva Provincial Council.
The Counsel rejecting the stance of the petitioner contended that the petitioner could not seek redress from court under the provisions of the Elections Act.
He said according to the Provincial Council Election Act, the party leader could nominate anyone to the vacant positions in the Provincial Councils.
Court fixed hearing for December 15.
(T.Farook Thajudeen)