---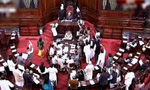 Members from various political parties in Tamil Nadu yesterday expressed concern in Rajya Sabha over arrest of Tamil fishermen by Sri Lankan Navy, an issue that saw a clash between DMK and AIADMK members.
With Prime Minister Narendra Modi present when the issue was being raised, there was a demand from members belonging to DMK, CPI-M and CPI that he should respond to their concern.

Raising the issue during Zero Hour, T Siva (DMK) said that despite the issue having been raised in Parliament several times, it continues to happen regularly and it seems raising the matter in the House has become a "futile exercise".
He said that he was highlighting the issue in the House for the second time within 15 days as 40 fishermen of Tamil Nadu were arrested by Sri Lankan Navy in November and 38 are languishing in jails there.
Holding that the International Maritime Boundary Line between India and Sri Lanka (IMBL) and the issue of Kachchatheevu are "not settled", Siva urged the government to "first retrieve Kachchatheevu".
Replying to a Calling Attention Motion on Tamil fishermen issue in Lok Sabha, External Affairs Minister Sushma Swaraj had on Wednesday said that a proposal involving the development of a National AIS (Automatic Identification System) Network for effective tacking of small fishing vessels fitted with customised AIS transponders and having early warning system on International Maritime Boundary Line is being explored for the safety and security of the fishermen.
Siva said there is dismay and despair in the minds of Tamils in the state and alleged that be it UPA or NDA, they are "totally neglecting" Tamil Nadu as he demanded a response from the government.
Leader of AIADMK A Navneethakrishnan said Tamil fishermen are being treated as "slaves" in Sri Lanka.
He thanked Prime Minister Narendra Modi and former Tamil Nadu Chief Minister J Jayalalitha for release of five Tamil fishermen from Sri Lanka, who were earlier awarded death sentence by the High Court of that country.
Members of DMK and AIADMK clashed over certain remarks by a DMK member, which could not be heard in the din. AIADMK members including V Maitreyan were seen rushing towards the seats of DMK members.
Sensing trouble, Telecom Minister Ravishankar Prasad rushed towards them and tried to mollify them. While Siva blamed the AIADMK members for the row saying that it was they, who came to the DMK side, members from AIADMK said one of the DMK members "threatened" them.
Deputy Chairman P J Kurien said that after checking records he will expunge if anything unparliamentary has been said.
Navneethakrishnan, took a jibe at the DMK saying they should "also learn Yoga and balance properly".
Prasad said,"We must maintain dignity. We should not use unparliamentary language or behaviour...we can convey our views but we should not lose temper".
D Raja (CPI) said the issue has been raised in the presence of the Prime Minister and he should have responded.
Noting that the fishermen issue has been raised many times, Raja said government of the day should resolve it.
T K Rangarajan (CPI-M) also said he expected a response from the Prime Minister.
As members insisted on a response, Prasad said the government "completely shares" the concerns and will do everything for the security of the Tamil fishermen. (PTI)