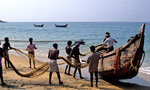 The third round of talks between representatives of fishermen of Tamil Nadu and Sri Lanka ended in Chennai on Tuesday, a day ahead of schedule, with the two sides meeting each other half way.
The talks that went on for more than eight hours made significant progress on many long-pending issues.
"'Give and take' attitude on both sides have made this 'progress' possible. The talks were held on a cordial note. During the discussions, Sri Lankan fishermen had expressed happiness over the stance taken by the Tamil Nadu fishermen on certain issues and promised that they would reciprocate this appropriately. The representatives on both sides understood the issues of the other side well," sources said.
The sources further said the Lankan fishermen agreed to Indian fishermen fishing in Sri Lankan water for 83 days per year or the next three years.
But they would make a formal announcements after consulting their colleagues. The Tamil Nadu fishermen agreed not to go upto five nautical miles from Sri Lankan coast while fishing.
Talking to mediapersons after the talks, U. Arulanandam, president, Alliance for the Release of Innocent Fishermen said, "Unlike the past two rounds of talks, we have made some progress on important issues. We have told them that we will completely stop use of banned nets [in Lankan waters] and these are banned in Tamil Nadu too."
T. Sathasivam, representative of the National Fishermen Maha Sammelanam of Sri Lanka said the TN fishermen had put forth a seven-point charter of requests to their Lankan counterparts.
(New Indian Express)