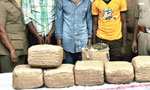 The Q Branch police in India have arrested three Sri Lankan Tamils, including two refugees, when they attempted to smuggle 11 kg of ganja from Thonikarai seashore near
Mandapam in
Ramanathapuram on Saturday night.
Acting on a tip-off by local fishermen, a special team, led by Q Branch Inspector R. Kennedy, detained the Lankan Tamils when they reached the seashore to smuggle the contraband to Talaimannar via the sea route.
The police identified the accused as A. Chandran (48) from Guru Nagar in Jaffna, P. Ashok (30), a refugee staying in Mandapam camp since 1997, and Rogans alias Anil (38), staying in Gudiyatham refugee camp since 1990. They were looking for a vallam (country boat) to take the contraband to Sri Lanka, when the Q Branch police detained them with the narcotic substance.
Mr. Kennedy said the modus operandi of the accused was that they would take the contraband to the sea after crossing the shallow waters and their contact from Jaffna would receive it at mid-sea. He said that Chandran flew down from Colombo on April 20 with a valid passport and three months tourist visa for the purpose of smuggling the contraband.
After staying in his brother's house in Madurai, he contacted his cousin Ashok and procured the ganja at Kaviapalli in Andhra Pradesh through Rogans.
The trio later reached Mandapam and reached the seashore on Saturday night for smuggling the contraband.
Chandran told the police that he had asked his son Dinesh, who had a fibreglass boat, to come to mid-sea at the early hours of Sunday and receive the drugs.
Chandran had earlier visited Tamil Nadu in June, 2013, on a tourist visa but claimed that this was his first attempt to smuggle the contraband, Mr. Kennedy said.
They were handed over to Mandapam police, who booked them under Sections 8 (c) and 20 (b) of the Narcotics Drugs and Psychotropic Substances Act (NDPS), 1985.
They were produced before the local magistrate court and remanded in judicial custody, the police said.
(The Hindu)