---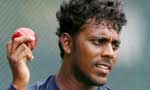 The International Cricket Council (ICC) today announced that Sri Lanka's Tharindu Kaushal is permitted to continue to bowl his stock delivery (off-break) in international cricket following an independent assessment of his action, which took place at the Sri Ramachandra University in Chennai earlier this month.
The results showed that the level of elbow extension measured for all deliveries bowled was well within the 15-degree level of tolerance permitted under the ICC regulations.
However, the assessment also revealed that Kaushal's Doosra was found to exceed the 15-degree level of tolerance and it should no longer be bowled in international cricket.
Under the ICC Regulations for the Review of Bowlers Reported with Suspected Illegal Bowling Actions, Kaushal will run the risk of being cited again if he bowls the Doosra in an international match.
To assist the umpires, they have been provided with images and video footage of the 22-year-old's bowling action.