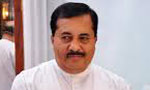 Former Minister T. B. Ekanayake today termed a group of SLFP MPs, who accepted the ministerial portfolios on Sunday as 'Gandabbayo' (people serving transition periods) and said that these ministers couldn't say a word against the UNP.
"We had a few 'Gandabbayos' in our side and they couldn't even win their seats. By way of giving these ministerial portfolios, the current government was trying to remain in power for one more year," MP Ekanayake said addressing an event in Ambanpola.
He also said: "Now 70 days of the 100-day period is over. Nothing has been done yet. In order to keep in power for one year, these men were given ministerial portfolios."
"Even former President Chandrika (Kumaratunga) called me. I told her that 5.8 million people voted for Mahinda Rajapaksa. Those voters are against the UNP.
We can't accept ministerial portfolios wearing clothes. We have backbones. That is the difference between us and those Gandabbayos. How can these Gandabba ministers go to the village and canvass for votes. These people cannot be called either SLFPers or UNPers."
"This country was freed and re-built by Mahinda Rajapaksa, we can't allow the UNP to open development projects done by us," the former Minister said.
(Anil Gamini Wijeratne-Ambanpola)