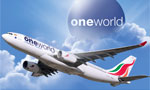 SriLankan Airlines has entered into a landmark code-sharing agreement with American Airlines, a founder member of the global airline alliance, a press release from SriLankan Airline said.
The release further said:
The flag carrier of Sri Lanka became part of oneworld on 1 May 2014 as the first airline from the Indian sub-continent to join any of the global airline alliances, and has since then been offering the full range of the world's most highly rated aviation groupings' services and benefits.
Its code-sharing agreement with American Airlines, the world's biggest airline, is the fifth signed with its partners in oneworld since its addition to the alliance, with similar arrangements set in place in the past year with Finnair, Japan Airlines, Qantas, and Russia's S7 Airlines, alongside an established accord with Malaysia Airlines.
Under the initial phase of their agreement, SriLankan's UL designator will be placed on services operated by American Airlines on six transatlantic routes, connecting the US carrier's Dallas/Fort Worth, Chicago O'Hare and New York JFK hubs with the European gateways of Frankfurt and Paris CDG, where they will provide seamless transfers with SriLankan's own connections to and from its Colombo hub.
These flights have been available for booking from 27th April 2015, for travel from 30th April 2015.
Later, the plan is to add American's own AA code to select flights operated by SriLankan, smoothing travel to its home country and across its extensive South Asian network for American's customers.
With both airlines members of oneworld, members of American's Advantage and SriLankan's FlySmiLes loyalty programmes already receive the full range of oneworld services and benefits across both airlines' networks, including the ability to earn and redeem mileage rewards and, for top tier cardholders, to access lounges and enjoy additional baggage allowances and priority baggage delivery.
Including all its other oneworld partners – airberlin, British Airways, Cathay Pacific, Iberia, LAN Airlines, TAM Airlines and Qatar Airways – its membership of the alliance means SriLankan can offer customers the smoothest of travel to more than 1,000 destinations in 155 countries, flying all the way on a collection of the world's leading airlines.
SriLankan Airlines' Head of Worldwide Sales, Mr. Lal Perera: "Joining oneworld was one of the most significant achievements in SriLankan Airlines' history – and we celebrate the first anniversary of our entry into this airline industry premier league with another great landmark, with the launch of code-sharing with the world's biggest airline and oneworld co-founder, American Airlines.
"Being part of oneworld has vastly improvedSriLankan's and our nation's connectivity with the rest of the world, which is vital for our country's trade and tourism. Today's agreement with American Airlines improves still further our access to and from the United States."
"We're excited about this codeshare partnership with our fellow oneworld member, Sri Lankan Airlines," said Kurt Stache, senior vice president of alliances and partnerships at American Airlines. "This agreement will provide customers traveling from Sri Lanka greater access to key destinations throughout the United States."
oneworld member airlines work together to deliver consistently a superior, seamless travel experience, with special privileges and rewards for frequent flyers, including earning and redeeming miles and points across the entire alliance network. Top tier cardholders (Emerald and Sapphire) enjoy access to more than 600 airport lounges and are offered extra baggage allowances and priority baggage delivery. The most frequent travellers (Emerald) can also use fast track security lanes at select airports.
oneworld is currently the holder of six of the leading international awards for airline alliances –from Skytrax, FlightStats, Business Traveller, Premier Traveler and Global Traveler.