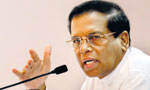 President Maithripala Sirisena yesterday said Sri Lanka is committed to world peace.
He expressed these views when he met a group of representatives of the Comprehensive Nuclear- Test –Ban Treaty Organization (CTBTO) at the President's Official Residence.The President appreciated the visit of the delegation headed by Lassina Zerbo, the Executive Secretary of the CTBTO.
During the meeting, a cordial discussion was held between the President and the representatives.
These representatives met with the President during their training programme held at the Kandalama hotel, Dambulla from November 29 to December 05. Nearly 100 persons representing 13 countries including Sri Lanka participated in the programme.
The CTBTO is an international organization that will be established upon the entry into force of the Comprehensive Nuclear-Test-Ban Treaty, a Convention that outlaws nuclear test explosions.
The representatives apprised the President regarding the importance of endorsing initiatives taken by the Organization and the President said Sri Lanka as a country, which is committed to world peace will provide every possible support in this regard.
Chairman of the Geological Survey and Mines Bureau – Dr. Kithsiri Dissanayake, Dr. Bernard Prem – Director General of the Bureau and officials from Foreign Ministry also participated in this meeting.