---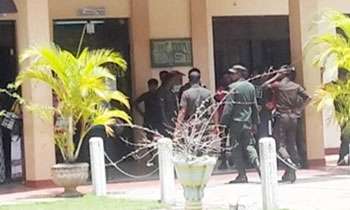 At least 19 soldiers who were engaged in a military training at the 611th Army Training School of the Security Forces Head Quarters in Pampamaduwa in Vavuniya were admitted to the District General Hospital in Vavuniya after being dehydrated today, Army sources said.
The daily training exercise session had been conducted with the participation of more than 50 soldiers.
It was reported that several fainted soldiers were admitted to the Vavuniya District General Hospital using ambulances of the Army Security Forces Head Quarters.
The soldiers were attached to the 25th Light Infantry Division. (Sithum Chathuranga and Romesh Madhusanka)