---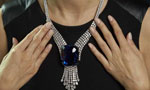 A Swiss auction has set a new world record for jewelry sales, Christie's said on Wednesday, led by a Ceylon sapphire known as the "Blue Belle of Asia" which alone sold for an unprecedented 16.96 million Swiss francs ($17.6 million).
Christie's said that 346 items had found new owners on Tuesday evening for a total sum of 147.2 million Swiss francs, exceeding the late actress Elizabeth Taylor's collection which netted $116 million three years ago.
Many of the jewels on the block in Geneva were from the large estate of a late Saudi collector, experts said.
The cushion-shaped sapphire, weighing 392.52 carats and suspended on a diamond tassel pendant, soared to double its pre-sale estimate at the auction, where private collectors and professional traders from the Middle East bid heavily.
"We are extremely proud that the Blue Belle of Asia established a new world record for any sapphire sold at auction," Rahul Kadakia, International Head of Christie's Jewelry Department, said in a statement on Wednesday.
"The private collector, seated in the room, is now the new owner of the most valuable sapphire in the world," he added, without identifying the buyer.
It was not immediately clear if the sapphire had belonged to the late Saudi collector. His gem box did include several items made by Swiss-based jeweler Jahan, experts said.
London luxury jeweler Laurence Graff, known as the "King of Diamonds", bought a pair of Bulgari fancy vivid blue and fancy vivid pink diamond ear pendants for 15.5 million Swiss francs, Christie's said.
A gold bangle bracelet by Paris-based American jeweler Joel Arthur Rosenthal, known as JAR, sold for 3.52 million Swiss francs, well above a pre-sale estimate of up to 290,000 francs.
The bracelet, known as the "Parrot Tulip", and designed as a gold flower studded with diamonds and green garnets, set the second highest price for a creation by JAR, Christie's said.
"These prices are a sign that money is available for exceptional things, within limits that are no longer limits," Eric Valdieu, a Geneva-based jewelry dealer formerly of Christie's, told Reuters after attending the sale.
"As easy as it is to explain that Graff paid the market price for ... the pair of diamond earrings, it is hard to explain 3.5 million for the gold bracelet by JAR. It remains inexplicable," Valdieu said.