---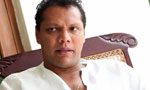 Members of the Sri Lankan cricket team were at the Financial Crimes Investigation Division (FCID) to make a statement on match fixers, Sports Minister Dayasiri Jayasekara said.
Clarifying the circumstances of the cricketers being asked to appear at the FCID for statements, the Minister said the players had volunteered information on match fixers to help with ongoing investigations.
"They were not being investigated but aiding an investigation. None of the team members take part in match fixing. I would like to apologize for any inconvenience caused," he said.
The Sport Minister lodged a complaint regarding match fixing at the FCID earlier this month.