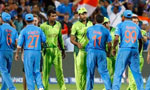 Sri Lanka has emerged as the likely venue for the much-awaited Indo-Pak bilateral cricket series and an official announcement may be made on November 27.
While BCCI made it clear that they will not play in the United Arab Emirates and the Pakistan Cricket Board (PCB) refusing to play in India, the only feasible option left was the island nation, which will act as the neutral venue.
With only a month's window available after India finish their Test Series against South Africa on December 7, the series is likely to be confined to three ODIs and two T20 Internationals instead of the original two Tests, five ODIs and two T20 Internationals, according to top BCCI sources.
The proceedings had been fast-tracked once BCCI president and current ICC chairman Shashank Manohar met PCB chairman Shaharyar Khan and senior official Najam Sethi in presence of ECB supremo and chairman of 'Pakistan Task Force' Giles Clarke.
Without duvulging any details, both Sethi and Khan had said on Sunday that the meeting with Manohar was "fruitful" giving an indication that the deadlock on the marquee series was broken.
"Since PCB will need the permission of Nawaz Sharif before going official, Shaharyar Khan will need to go back to Islamabad and seek the Prime Minister's permission. Once he gets the green light from the PM, he will again come back to Dubai and intimate his decision to Clarke. Clarke is likely to officially announce the series on November 27," the source told PTI on Monday.
It has been learnt that Sri Lanka Cricket (SLC) has been approached by the Pakistan Cricket Board (PCB) and they seem to be keen to host the series.
The two stadiums earmarked for the series are Khettarama (R Premadasa Stadium) and Pallekele (Kandy). While the receding monsoon has hit the island nation badly, the weather forecast for the last part of December looks good.
While some T20 matches are scheduled at the Khettarama, the SLC will reschedule them at the first notice, once the official announcement is made.
This will be the first time that a Test playing nation has rejected playing a series in the UAE since it became Pakistan's adopted home after the 2009 Lahore attacks.
BCCI president Manohar is very much against India playing international matches in UAE. In fact Manohar was also a vocal critic when the first part of IPL was shifted to the UAE last year due to the general elections.
According to reliable sources, UAE has always come under scanner for being a heaven for shady people and match fixers.
In fact, a recent ODI match between Pakistan and England came under scanner with former England captain Michael Vaughan expressing his suspicion through a series of tweets which he later removed.
However ICC Chief Executive Dave Richardson downplayed the incident stating that there is no reason to be suspicious about the match.
(Indian Express)