---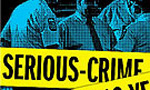 Nearly 7,592 crimes of a serious nature such as murder, sexual abuse and robberies have been reported this year between January and November, the Police Department said today.
It said 575 crimes including 39 murders, 198 sexual abuses and 64 robberies were reported in November alone. "It is a decrease when compared with the 665 reported in November last year," police said and added that 153 burglaries and 121 thefts were also reported in last month with the most numbers of crimes being reported from the Nugegoda Division in the Western Province.
Police said 33 crimes including five murders were reported from the Nugegoda division while 30 were reported from Tangalle, 30 from Anuradhapura, 26 from Galle and Kandy, 23 from Ratnapura, 22 from Gampaha and 20 from Matara and Monaragala.
They said among the 198 sexual crimes reported last month, 152 incidents were rape cases.
Meanwhile, 1,058 vehicle robberies were reported this year while 1052 were reported last year.(Darshana Sanjeewa)