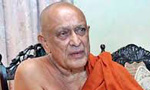 The head of the National Movement for Social Justice, Venerable Maduluwawe Sobitha Thera today urged new President Maithripala Sirisena to form a national government as soon as possible and implement the reforms which were promised by him during elections.
The Venerable Thera told a media briefing that his movement would start lobbying for changes as the objective of the Movement for Social Justice was not merely to remove former President Mahinda Rajapaksa from office and elect Mr. Sirisena as the president, but to bring about social and political changes.
He said the usual post election scenario of confrontational politics should be got rid of. The Thera therefore said all members of Parliament should pledge their support to the incumbent president to bring about reforms. "If any member of Parliament fails to raise his hand in Parliament for reforms, that MP would be working against the interests of the country," he said.
Further the Venerable Thera said politicians and the rest should show the sprit which they showed during the tsunami and get together for the sake of the nation.
Also it was highlighted that those who were defeated at the election should take it up in a good sprit and should not try to seize power.
The Venerable Thera stressed that the new cabinet should not exceed 30 members.
(Yohan Perera)