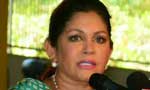 The Supreme Court today (8) fixed for support on November 30 the rights petition of Rosy Senanayake seeking a recount of preference votes secured by her and several other UNP candidates who contested the last General Election in the Colombo District.
The Bench comprised Justices B.P.Aluvihara, Priyantha Jayawardane and Upaly Abeyrathne.
Petitioner Bernadine Rose Senanayake was seeking a recount of preference votes secured by her, Hirunika Eranjali Premachandra and Mano Ganeshan. She had cited Elections Commissioner, Returning Offer of the Colombo District, Attorney General and 22 others as Respondents.She had bemoaned the fact that in respect of certain polling divisions, the votes secured by some candidates had been arbitrarily, illegally and unlawfully altered by the election officials present at the computer room when entering the same into the computer system.
She complained that no passes were issued by the Elections Commissioner's office enabling counting agents of the party to be present in the computer room at the time the written statements were being processed/entered into the computer system.
As such, she laments she was left unaware of the irregularities taking place in the computer room and hence was not able to exercise her rights as a candidate in time to request a re-count of the preferences.
She was seeking a declaration from the Court that her fundamental right to equality has been infringed by the Elections Commissioner and the Returning Officer. She was asking the Court to direct them to determine that she is qualified to be declared as a Member of Parliament.
Faisz Musthapha PC with Faiza Markar Musthapha and Laila Nasri appeared for the Petitioner. Deputy Solicitor General Nerin Pulle appeared for the Elections Commissioner and the Attorney General.
(S.S.Selvanayagam)