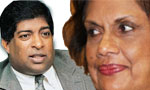 Refuting the claims by former President Chandrika Bandaranaike Kumaratunga, Finance Minister Ravi Karunanayake yesterday said the Treasury has "enough money" to cover its obligations and fund the "right" infrastructure projects.
Addressing a recent meeting organised by the Sri Lanka Development Officers' Union in Colombo, Kumaratunga said the government was facing difficulties due to the depleted finances of the Treasury and was even unable to pay the salaries of public servants.
While alleging those who opposed good governance had started a counter revolution, she said financial difficulties had been caused by the lack of transparency in the mega projects carried out by the previous government.
"I believe what she (Kumaratunga) meant by this statement was the dismal situation of the economy the new government inherited. We have enough money," Karunanayake averred.
However, he said the bloated payments for mega infrastructure projects and some of the unnecessary tax concessions given by the previous regime have curbed the government's income.
"The revenue per gross domestic product has gone down to 10.7 percent," Karunanayake noted.
He added that the government's debt servicing (capital and interest) remains extremely high at Rs.1290 billion compared to the government's revenue of Rs.1352 billion.
The government recently sought the Parliament approval to increase the Treasury bill issuance threshold by Rs.400 billion to retire high-cost debt.
However, the motion was defeated and Karunanayake said it had no impact to government's day-to-day business.
He also noted that the improved investment climate in the country due to good governance is attracting more foreign investments and multilateral lenders such as the International Monetary Fund (IMF), Asian Development Bank (ADB) and World Bank are willing to fund the "right" projects.
Meanwhile, responding to a query about the sovereign bond issuance the government was planning Karunanayake said they are waiting for the most appropriate time.
"We are in no rush. We are waiting for the lowest rate," he said.