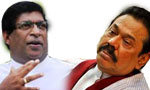 Finance Minister Ravi Karunanayake today challenged former president Mahinda Rajapaksa who was also the former finance minister to a public debate on a statement made by Mr. Rajapaksa that the Lankaputhra Bank had lent funds to various people named in a list submitted by Mr. Karunanayake.
Mr. Karunanayake rejected this allegation and told journalists that he was ready to prove that this was false at a public debate with the former president.
The minister said he was prepared to meet Mr. Rajapaksa at any suitable place for such a debate.
He said he had instructed his lawyers to file a defamation case claiming Rs.2 billion in damages.
"I have nothing to hide," the minister said and added that some groups were planning to submit a no-confidence motion against him and some others.
"Do they think that we have nothing better to do than respond to various allegations cooked up by them," he asked.
Lankaputhra Development Bank (LDB) Chairman Lasantha Goonewardena who also participated in the media briefing said the minister had instructed the Bank to lend money only to those who were able produce proper collateral.
He said a credit audit that had been conducted had revealed that the non-performing loans of the bank had exceeded Rs.1.6 billion as at December 31, 2014.
Mr. Goonewardenea said he had been appointed as LDB Chairman only in February 11, 2015.
(Yohan Perera)