---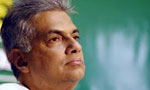 Opposition leader Ranil Wickremesinghe left for Singapore on a two day visit, his office announced today. The statement said he was expected in the country on Thursday, October 23.
However UNP MP Nalin Bandara Jayamaha told Parliament last evening that Mr. Wickremesinghe would be meeting some ministers from the Sri Lankan government during his visit.
"The situation is such in this country that it is not safe for our leader to meet Cabinet Ministers of the Sri Lankan government in this country. Therefore he is forced to meet them abroad," Mr. Jayamaha said while speaking during the debate on the Land (Restriction Amendment Bill ) in the House today.
Mr. Jayamaha charged that the government had to seek the assistance of Chief Opposition Whip John Amaratunga to bring down Pope Francis to Sri Lanka. "Mr. Amaratunga had to accompany President Mahinda Rajapaksa to go to Vatican to convince the Pope to visit this country," he said. (Yohan Perera)