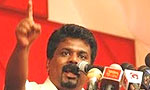 Making a review of the first 100 days of the present government, the Janatha Vimukthi Peramuna (JVP) today said there were many aspirations of the people that had not been fulfilled during this period.
JVP Leader Anura Kumara Dissanayake told a media briefing that the government had failed to establish a people's friendly economy.
He said there had been a delay in penalising those who had been allegedly involved in robbing public property and nationalising those properties though some probes were continuing.
The JVP Leader said some had been cleared of charges as they happened to be associates of key persons in the government.
He said the Central Bank Governor Arjuna Mahendran had been cleared of all charges this way.
Dissanayake said some groups in the Opposition were involved in a conspiracy of jeopardising the enacting of the 19th Amendment, which had several positive components to re-establish democracy.
Meanwhile, he said the JVP had decided to take to the streets to force the government to fulfill its pledges. He said the first street protest will be held today at the Fort Railway Station.
(Yohan Perera)