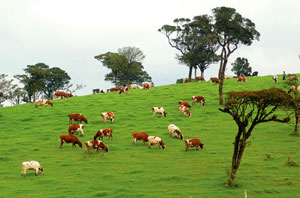 New Zealand dairying expertise and technology is helping communities in Sri Lanka to develop a co-operative dairy farming farming network and raise their incomes.
The woman heading the Wanni Dairy Regeneration programme, Selina Prem Kumar, has been in New Zealand to raise awareness and support for the project.
It grew out of Sri Lanka's 25-year civil war, which resulted in hundreds of thousands of people being displaced and losing their livelihoods, and has brought together Singhalese, Tamil and Muslim communities.
"Basically this is all about regenerating the dairy industry through which to provide direct marketing to improve the quality of milk and the quantity, through breeding, feeding and animal health, and also looking into the cold chain management so that the farmers will be able to earn more and this will put them back in a position that they will be able to be providers again to their families," Ms Kumar said.
"That will help the children go back to school and also to address all their needs."
Ms Kumar said the programme spanned 30 communities in the north of Sri Lanka and was helping about 2000 farmers, 40 percent of them women.
It had lifted incomes for those farmers by 600 percent; some farmers earning about $NZ40 to $NZ50 a month a few years ago were now earning about $NZ300 a month, she said.
The Sri Lankan dairy project was supported by the Ministry of Foreign Affairs and Trade and the TEAR fund in New Zealand.
New Zealand companies, QPod and Patton Refrigeration had contributed by adapting cooling technology for milk delivered to the processing factory.
(Radio New Zealand News)