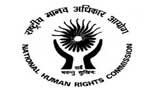 New Delhi:
The National Human Rights Commission (NHRC) in India has issued a notice to Tamil Nadu government over the alleged custodial death of a Sri Lankan refugee in Chennai.
The Commission has taken suo motu cognizance of a media report alleging the death of a Sri Lankan refugee, Mohan (45) in the custody of Pallikaranai Police, Chennai on September 4.
"As per the media report, Mohan died while he was in the police custody due to severe torture by the forces.
Further, he was also kept in the custody over a period of three days against all canons of justice and law which would amount to illegal detention as well.
"That apart, on verification of the Registry of the Commission, it was ascertained that no intimation of the death was received by the Commission from the state government so far," Justice D Murugesan, NHRC member observed.
According to the NHRC guidelines, intimation regarding death in custody has to be reported to the Commission within 24 hours.
Meanwhile, notices have been issued to the Chief Secretary and Director General of Police, Government of Tamil Nadu calling for reports within four weeks.
NHRC stated that the Central Crime Branch, Chennai had received the information that Mohan had connections with people indulged in preparing forged passports.
Mohan was therefore taken into custody and enquired upon for about three days. While he was being questioned on the night of September 4, he collapsed and was admitted in a nearby private hospital where he was declared dead.
The family members of the refugee, however, have alleged that his death was due to the brutal treatment by the police.
A number of refugees from Sri Lanka came to India during the 1983-2009 war between Sri Lankan government and Liberation Tigers of Tamil Eelam.
(ibnlive)