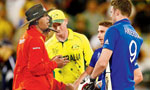 As Sri Lanka lost the World Cup curtain raiser against New Zealand on Saturday, another Sri Lankan – umpire Kumar Dharmasena – made a shockingly poor decision, something completely unexpected of an ICC Elite Panel umpire, perhaps endangering his future in this World Cup as well as in the Elite Panel.
Australia beat England by a huge 111 runs at the Melbourne Cricket Ground in a match that ended amidst a huge controversy though the margin of victory may suggest there could be little reason for it.
The match ended in the 42nd over when England's last wicket fell under confusion when Dharmasena ruled last man James Anderson to have been run out.
The fifth delivery of that over was bowled by Josh Hazlewood to England batsman James Taylor who was on 98, just two runs short of his maiden ODI century. Umpire Aleem Dar ruled Taylor out lbw as the batsmen attempted a quick single.
Glenn Maxwell picked up the ball and beat Anderson to the striker's end with a direct hit while Taylor asked for a review of Dar's original lbw decision.
Dar's decision was proven wrong by the Hawk-Eye and was over-turned, but square leg umpire Dharmasena decided to check the run-out with the TV umpire and raised the finger to rule Anderson out after getting the feedback.
However, as Dar had raised his finger to rule Taylor out, the ball should have been deemed "dead" and no dismissals any longer possible according to cricket laws.
International Cricket Council (ICC) issued a media release about an hour later to officially admit that the officials had made a terrible mistake, but it was too late for Taylor.
"The ball should have been deemed dead when the batsman [James Taylor] was given out leg before wicket. No further runs or dismissals were possible," stated the ICC release that quoted the Article 3.6a of Appendix 6 of the Decision Review System (DRS) Playing Conditions.
"The PCT [Playing Control Team] spoke to the England team management and acknowledges that the game ended incorrectly and an error was made," added the release.
Dharmasena conferred with Dar and also with the TV umpire before making the wrong decision to rule Anderson out, putting the whole system in disarray.
Dharmasena was the ICC's umpire of the Year at 2012 ICC awards while Dar won that title for three years in succession before Dharmasena. When the best in the business and ICC's Elite panel members make such errors, it obviously puts the integrity of the whole system in jeopardy.
It should be noted that Taylor insisted, pleaded, made his point clear and tried his best to show the umpires that they had made a mistake. It was patently clear to most at the packed MCG that the decision was wrong though it apparently did not occur to the two men who mattered. It was also shocking to see match referee Jeff Crowe also failing to intervene and rectify the situation.
Perhaps most alarming would have been Dharmasena's attitude to bullishly stick to his decision even when Taylor had pleaded him to consider the possibility of a doubt over it.
It was this attitude that abruptly ended Sri Lanka's previous ICC Elite Panel member Asoka de Silva's international umpiring career prematurely in 2011 during the previous ICC World Cup held in India and Sri Lanka.
In the match between West Indies and Ireland, a delivery from West Indies captain Darren Sammy pitched outside the off stump and cut in to hit the outside of Ireland batsman Gary Wilson's front pad. De Silva ruled out Wilson who immediately asked for a review.
Third umpire Bruce Oxenford confirmed to de Silva that the ball had pitched outside off but would go on to hit the off stump. Replays that came on the big screen at the ground made it abundantly clear that Wilson was actually playing a shot, if de Silva was in any doubt.
Cricket rules are clear that a batsman cannot be given out lbw when the ball pitches outside off stump. The only exception to this rule is when the batsman is not offering a stroke.
But for Ireland and what later turned out to be his own misfortune, de Silva stubbornly decided to stick to his original decision. It was despite Wilson requesting de Silva to review again and verify that he was in fact playing a shot.
Ireland captain William Porterfield strongly criticised the move and said that Wilson's wicket was the turning point for his team's defeat.
Within five days, ICC removed de Silva from the key Group Stage games of that World Cup he was originally to officiate in and two months later dropped him altogether from the ICC Elite Panel, replacing him interestingly with Dharmasena.
Sri Lanka was also involved when another big blunder was made by ICC match officials in 2007 ICC World Cup final which featured Sri Lanka and Australia in Barbados. The teams were asked to play three overs in near total darkness after rain had disrupted the match. It was sufficient for both teams to have completed 20 overs to arrive at a decision, but the officials shockingly overlooked it.
To punish them for that disaster, ICC stood down all five officials involved in that match from the next big tournament - the ICC World Twenty20.
Interestingly three officials of those five – Dar, Match referee Jeff Crowe and third umpire Billy Bowden – were all involved in Saturday's controversy at the MCG.
(Channaka de Silva)