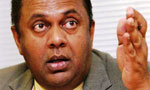 The objective of the demand made by some opposition parties to do away with the Financial Crimes Investigation Division (FCID) is something aimed at getting away from frauds, Foreign Affairs Minister Mangala Samaraweera said today.
Mr. Samaraweera made this point with regard to a demand made by the delegation led by former President Mahinda Rajapaksa when they met President Maithripala Sirisena on Wednesday.
The Minister said half of the opposition members who made this demand were those who faced serious corruption charges.
"We will continue to carry out investigations on financial crimes irrespective of what steps that would be taken in the future," he said.
He said, "I doubt the FCID gazette will be repealed. That is an intrinsic part of the mandate given to us by the people of this country to look into all these allegations of wide-scale corruption which existed during the last regime. The very fact that they want it scrapped shows that they are guilty. Because, with due respect, half of those who accompanied former President Rajapaksa to meet President Sirisena, had very serious allegations against them. It is a race against time to somehow get these investigations stopped. We have total confidence in the President that he will live up to the mandate given to him by the people of this country."
Meanwhile, he said the government was getting the expertise of four countries in the asset recovery operations.
"For the moment I'd rather not name the countries. According to some of the people we've been working with, they feel that the assets that have been siphoned off from this country by the Rajapaksa family at large may amount to some 18 billion US dollars. In fact, we have done a little better than the Libyans and the others because we at least know where 2 billion US dollars lie, but it is not an easy task and we are getting help and support to negotiate and gain access to these funds," he said.
(Yohan Perera and Sanath Desmond)