---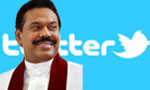 President Mahinda Rajapaksa condemned yesterday's shooting incident in Canada and said all should unite to fight this menace.
"It is very disturbing to see increasing terrorists acts in many countries, now even Canada. We must unite as equal partners to fight this menace," the President twitted.
A Canadian soldier standing guard at a war memorial in the capital Ottawa was shot dead on Wednesday. Gunfire also erupted inside Parliament and authorities say at least one gunman was killed.