---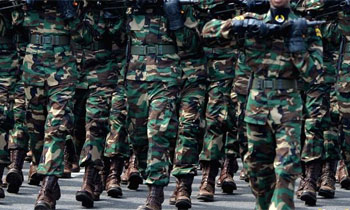 At least 1,300 military deserters have been arrested as of yesterday, Military Spokesman Brigadier Roshan Seneviratne said today.
He said the Police, together with the Sri Lanka Corps of Military Police (SLCMP) are currently conducting island-wide raids to arrest military personnel who are considered as Absent without Official Leave (AWOL).
Accordingly 984 army, 236 navy and 14 air force deserters were arrested since last December 31.
Brigadier Seneviratne said disciplinary action would be taken against army deserters who were absent for more than six months.
"They would be discharged from the service once all the arrears including loan payments are settled," he said.
He said around 42,800 tri forces deserters including officers had not reported for duty so far.
The Ministry of Defence had declared two General Amnesty periods during last year, providing the opportunity to tri forces personnel who are considered as AWOL to obtain legal discharge.
The previous General Amnesty period ended on December 31, 2016 and during the period 34 officers and 8,843 other rankers reported to their respective services seeking legal discharge.(DS)