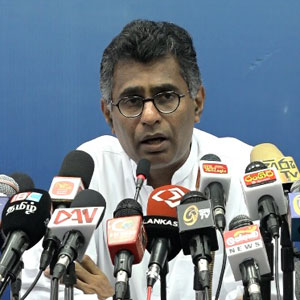 The consensual government's US 30 billion 'Mega-City Structure Plan' that will transform Sri Lanka into a higher income Smart City or the Center of Excellence in Asia by 2030 will be unveiled on Friday, January 29 at the Independent Square under the patronage of President Maithripala Sirisena and Prime Minister Ranil Wickremesinghe.
Megapolis and Western Development Minister Patali Champika Ranawaka told the media at the Information Department that the highly ambitious project that envisages to launch 160 mega projects that will cover the entire private and state sector in the country would be launched under a newly established 'Western Mega City Authority' with necessary legal powers.
"For each and every project, there will be a special design drawn after consulting professionals, religious leaders, the public and other stake holders as those projects affect the day today existence of the people," Minister Ranawaka emphasized.
Responding to a journalist, Minister Ranawaka said the on rough estimate, the 15 year running project needs US$ 30 billion and the government has already started talking to high end investors and friendly countries.
Sri Lanka's combined state and private industrial sector already draws about US$ 40 billion annually and for Hambantota Port Project though a white elephant has spent US$ 6 billion to complete it, Minister Ranawaka said.
"We expect to conduct a few road shows in a number of international investment and trade centers. Prime Minister Ranil Wickremesinghe who is in Davos, Switzerland attending the World Economic Forum right now has already spoken to a number of top entrepreneurs on this project and made much progress," he added.
Explaining the necessity for a mega-multi faceted project to realize Sri Lanka's development goals, Minister Ranawaka said rapid and large scale urbanization has created much havoc to the lives of Sri Lankans in addition to irreparable damage caused to natural resources and environment. The unplanned urbanization has also brought long standing problems to the government, local authorities and the city people in the form of highly congested roads, air pollution, slums, unhygienic and over crowded living among low income families and the problem of solid waste disposal.
"The unique feature of the 'Mega City Structure Plan' is that we have addressed all theses issues by drawing a special project for each problem. Not only that we have a separate plan to make entire Western Province a huge metropolitan area complete with natural beauty crated by green parks, sports complexes, IT centers, recreation spots, etc. Particular attention will be made to ease traffic congestion in the Western province through a combined plan together with private bus operators, SLTB, Sri Lanka Railways, three wheelers. In addition, there will be new construction of expressways, highways, byroads and rural roads and a new traffic plan to prevent vehicle congestions. We must not forget that in 1950, there were only 5,000 vehicles on our roads and today 600,000 vehicles enter the city of Colombo per day. Further, 2,000 vehicles are registered per day by the Motor Traffic Department daily that clearly explains the enormity of traffic congestions," Minister Ranawaka pointed out.
Minister Ranawaka emphasized that the objective of the Mega City Structure Plan' was not the economic development or the improvement of living standard of the people. It also aims at producing a highly educated nation that values religious, cultural and social values, upholds the rule of law, democratic way of life and has a cense to enjoy aesthetic creations and art, Minister Ranawaka stressed.
(Sandun A Jayasekera)