---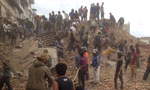 A powerful, magnitude 6.7 aftershock shook the Kathmandu area of Nepal today, a day after the massive earthquake devastated the region with more than 1,900 deaths and destroyed homes and infrastructure.
The U.S. Geological Survey says the aftershock registered at a very shallow depth of 10 kilometers (6 miles) and that damage was very likely within a radius of 50 kilometers (31 miles).
The ground rumbled as the tremor sent people yelling and running for open ground.