---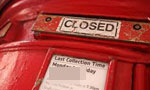 A huge backlog of about 700,000 letters and parcels were piled up at post offices around the island due to the strike launched by the Joint Postal Trade Union, its Convener Chinthaka Bandara said today.
He said about 350,000 letters and parcels were reported to be piled up at the Colombo Central postal exchange.
"The Joint Postal Trade Union had, on Tuesday, warned that trade union action would be launched by a group of Postal Department workers on Sunday and that it would be continued until the authorities fulfilled the promises made to them," Bandara said.
Two rounds of discussions were held today with the Public Administration Ministry's secretary and several related government department secretaries but the discussions ended with no decision.
"There will be another discussion tomorrow with the relevant authorities including the secretary of the Prime Minister and the Public Administration Ministry's secretary. If the promises are not fulfilled the strike action will continue," Mr Bandara said. (Chaturanga Pradeep and Indika Sri Aravinda)
Video by Indika Sri Aravinda