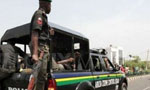 A Sri Lankan expatriate has been kidnapped by unknown gunmen in Ondo State in Nigeria, international media reported.
His escort, a mobile police officer, was killed during the attack, while his driver, Bitrus Dada, was shot.
Mr. Dada was receiving treatment at the Federal Medical Centre, Owo in Ondo State at the time of this report.
The hospital is said have also sent words to the driver's relatives, a source in the facility said.
The Sri Lankan, who is yet-to-be identified, works with Burni Coli Construction Company in the state.
A witness who spoke to PREMIUM TIMES, said the trio were ambushed on their way to Ondo from Okene in Kogi State.
The source at the Federal Medical Centre said the driver sustained some injury on his mouth and could not speak at the time of filing this story.
The spokesperson for the Ondo police command, Wole Ogodo, however said he could not confirm that the attack occurred in Ondo State.
"That place is Yari in Kogi State, they share boundary with Ajowo (in Ondo State); I just spoke with the DPO (Divisional Police Officer) covering the area and he confirmed the incident happened in Yari."