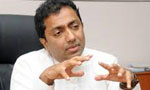 Education Minister Akila Viraj Kariyawasam, who leads the UNP's Kurunegala district team, vowed to defeat former president Mahinda Rajapaksa in Kurunegala similar to that of Napoleon Bonaparte, who was considered invincible but was defeated at Waterloo.
He told a news conference at Sirikotha that Mr. Rajapaksa had chosen to contest from Kurunegala in the face of waning public support in his home district of Hambantota.
"Kurunegala is not his but our home district. We have travelled the length and breadth of the district. If he wins, he will leave for Hambantota leaving the people of Kurunegala in the lurch. We are certain we can defeat him. During World War 1, Napoleon Bonaparte considered invincible but was beaten at the battle of Waterloo. Likewise, we too will defeat Mr. Rajapaksa at the battle of Kurunegala. Adolf Hitler, the supreme commander of the armed forces during the World War II, was also defeated in a similar fashion," the minister said.
He said the people of Kurunegala were intelligent voters and the UNP would increase its vote base this time without any problem. The minister said the UPFA had given nominated candidates tainted with allegations of fraud, corruption and other criminal activities.
"This will be a plus point for the UNP to secure an election victory," the minister said and added that he would write to the Elections Commissioner asking to make sure that the privileges Mr. Rajapaksa is entitled to as an ex-president were not misused or abused as a candidate at this election.
(Kelum Bandara)