---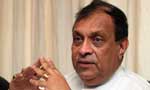 The opposition parties yesterday agreed to field a common candidate at the forthcoming snap presidential election to be declared on November 19, the Daily Mirror learns.
Ven. Maduluwave Sobhitha Thera, the convener of the National Movement for Social Justice, held separate meetings with representatives of political parties interested in working together at the next presidential election on a common programme.
The programme is meant for the abolition of the executive presidency and the re-introduction of the 17th Amendment to the Constitution.
Among those who attended the meeting were former President Chandrika Kumaratunga, JHU MP Ven. Athuraliye Ratana Thera and its National Organizer Nishantha Warnasinghe, Nawa Sihala Urumaya Leader Sarath Manamenddra, National Unity Alliance leader Asad Sally and Mawbima Janatha Party leader Hemakumara Nanayakkara.
Trade union leader Saman Ratnapriya also attended the meeting with Sobitha Thera.
The names proposed for the candidates to contest under a common symbol were Mrs. Kumaratunga, UNP MP Karu Jayasuriya and UNP leader Ranil Wickremesinghe. It is learnt that she, together with other leaders of the opposition, will address the media next week. Mr. Jayasuriya also met Ven. Sobhitha Thera yesterday.
Meanwhile, Ven. Sobhitha Thera told a news conference after these meetings with the leaders that an understanding between the UNP and JVP could be brought about on the fielding of a common candidate.
The latest move to field a common opposition candidate with the backing of the UNP had also stopped a move by several senior UNP MPs including Mangala Samaraweera to switch sides. (Kelum Bandara & Dayana Udayangani)