---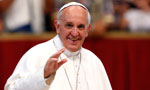 The Vatican on Friday released the itinerary for the pope's trip to Sri Lanka, where he will canonize Sri Lanka's first saint, the Rev. Joseph Vaz, a 17th-century missionary credited with reviving the Catholic faith in the country.

The Pope is scheduled to visit the island from January 12-15, 2015.
APOSTOLIC JOURNEY of HIS HOLINESS POPE FRANCIS TO SRI LANKA 12-15 JANUARY 2015
SCHEDULE
Monday, January 12, 2015
19:00 - Departure from the Airport of Rome/Fiumicino to Colombo
Tuesday, January 13, 2015
09:00 - Arrival at the Colombo International Airport, Katunayake
WELCOME CEREMONY
13:15 - Meeting with the Bishops of Sri Lanka at the Archbishop's House, Colombo - 08
17:00 –Courtesy visit to the President of the Democratic Socialist Republic of Sri Lanka at the President's House.
18:15 – Inter-religious meeting in the Bandaranaike Memorial International Conference Hall (BMICH) Colombo

Wednesday, January 14, 2015
08:30 - Celebration of Holy Eucharist and Canonization of Blessed Joseph Vaz in Galle Face Green, Colombo
14:00 - Departure to Madhu Shrine
15:30 –Marian Prayer the Shrine of our Lady of Rosary of Madhu
16:45 - Departure to Colombo
Thursday, January 15, 2015
08:15 - Visit to the Chapel of the "Benedict XVI Cultural Institute" at Bolawalana
08:45 - Farewell ceremony at the Colombo International Airport, Katunayake
09:00 - Departure from Colombo to Manila