---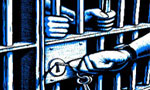 The Indian High Commission said the five Indian fishermen who were sentenced to death on drug trafficking charges were today released by Sri Lankan authorities and would not serve their sentence in India.
The High Commission said it was in the process of working out the exact modalities of their release.
"Yes they have been released and handed over to the High Commission. They will be sent to India and will not serve their sentence there. We are currently working on the modalities of the release" a high commission spokesperson told Daily Mirror.
The five fishermen from Tamil Nadu and three from Sri Lanka were found guilty of drug trafficking and sentenced to death.
The fishermen were released by President Mahinda Rajapaksa using the powers vested in him through the Constitution.
Emerson, P Augustus, R Wilson, K Prasath and J Langlet, all hailing from Tamil Nadu, were apprehended in 2011 and were sentenced to death by the Colombo high court on October 30 this year for alleged drug trafficking.
The court ruling had triggered fiery protests in parts of Tamil Nadu and sporadic violence broke out in and around Rameswaram Island. (Hafeel Farisz)