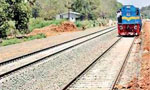 The Indian Railways construction subsidiary IRCON International is poised to bid for highways construction projects in Sri Lanka breaking into an area which, during the previous regime of Mahinda Rajapaksa, seemed to be earmarked for Chinese companies.
An IRCON official told Express that the company had Indian and overseas experience in highways construction and will be quite happy to bid for projects in Lanka in the light of a recent cabinet decision to discuss Indian participation in highways development in the island nation.
The cabinet had approved a proposal by Highways Minister, Kabir Hashim, to explore the possibility of entering into agreements with Indian agencies to execute road construction projects and signing MoUs during the visit of Indian Prime Minister Narendra Modi to Lanka in March.
Delineating the possibilities in highway development, Deputy Minister of Highways Eran Wickramaratne said that the government is reviewing all the Chinese aided projects and those which do not measure up to the desired norms will be put up for fresh bidding. To begin with the axe has fallen on the Northern Highway projects (between Colombo and Kandy and Colombo and Dambulla).
"Any party, whether local or foreign, can bid. Our criteria will be expertise, experience and ability to bring in finances," Wickramaratne said.
This is in marked contrast to the situation under the Mahinda Rajapaksa regime when many of the major Chinese aided projects had been handed out without going for competitive bidding.
The Chinese executed projects have received flak for being grossly overpriced. According to Dr. Amal S.Kumarage, Professor of Transport at the Moratuwa University, the accepted global norm is to charge US$ 7 million to 10 million per kilometer. But in Lanka, the price ranges from US$ 19 million to US$ 172 million per km. In India, the Mumbai-Nashik highway cost only US$ 4.9 million per km and the Mumbai-Vadodra highway was even less, at US$ 2.9 million per km.
Given IRCON's good track record in railway construction in Lanka (IRCON's lines are much cheaper than the Chinese ones), the Indian company should be able to put forth a competitive bid for the highway projects too.
(Indian Express)