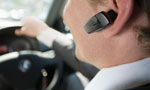 Using Bluetooth headset while driving increased the chances of accidents by 75 percent, a senior officer at the Police Traffic Headquarters said.
He said people were more vigilant when using phones, while driving or crossing roads but careless when they used Bluetooth headsets.
A Parliamentary sub-committee had been appointed last year to look into the measures to prevent road accidents and it had suggested that Bluetooth headsets and lack of back seat belts had caused more accidents, injuries and deaths during the past years.
"We won't ban the use of Bluetooth headsets, unless a directive came through Parliament.
"However, the 351 clause of the publication by Parliament sub-committee, which convened on 2014 December 12 had suggested the use of Bluetooth headsets cause more accidents," he said.
Meanwhile, acting Police Spokesman SSP Priyantha Jayakody said they had still not taken measures to ban the use of the devices or to implement the use of back seat belts as Parliament had not yet recommended to do so.
(LSP and SD)