---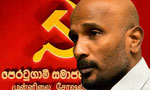 The Immigration and Emigration Department said today that they had been unable to locate Frontline Socialists Party (FSP) central committee member Premakumar Gunaratnam, whose tourist visa had expired on January 31.
On February 18, the Supreme Court dismissed a petition filed by Gunaratnam seeking to preclude his arrest and deportation from the country. The SC had agreed with the decision of the Immigration and Emigration Department to deport him on charges of violation of visa terms.
Gunaratnam, who is an Australian citizen, had arrived in Sri Lanka on January 1. He is alleged to have engaged in political activities while here on a tourist visa.
(Jayantha Samarkoon)