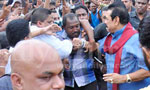 A Grama Seva Niladhari caught in the Akuressa election rally incident involving former President and Kurunegala district UPFA candidate
Mahinda Rajapaksa
, said today a drunken person who was behind him had grabbed the hand of Mr. Rajapaksa.
GS Officer W. Wijesinghe, attached to the Telijjawila, Wandagoda Division of the Matara district, said this drunken person put his arm behind, and that at the same time, the crowd started showing. Then, he said Mr. Rajapaksa slackened his hand from this grab.
"According to video footages, many assumed that I was grabbing the hand of Mr. Rajapaksa. I received several telephone calls from here and abroad inquiring about this incident," he said.
He also said state intelligence authorities had started recording statements from him.
Elaborating further on what happened, he said, "I went to the Akuressa town that day to pump fuel for my motorbike. Then, it started raining. I came to know that Mr. Mahinda Rajapaksa was coming. I wanted to have a glimpse of him. Mr. Rajapaksa was proceeding towards the stage. Then, a drunken man behind me tried to grip the hand of Mr. Rajapaksa, with ringed fingers. The crowd was jostling at the time. Mr. Rajapaksa tried to untighten the grip at once. That is it. Yet, it went viral on the internet. Newspapers also published it. Most think I am the one who had a grip of Mr. Rajapaksa's hand. Today, I am in a predicament not being able to walk on roads freely. I am exhausted after giving too many statements. I never though this will spin out of control to this extent. I do not know the person who was behind me at that moment.
A team of intelligence officials headed to his home yesterday to record a statement.
(Krishan Jeewaka Jayaruk)