---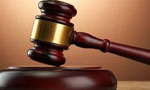 Minister A.H.M. Fowzie's son Nauzer Fowzie, who is also a UPFA Western provincial councillor was today released on a cash bail of Rs. 10,000 with two sureties of one million rupees each by Colombo Chief Magistrate Gihan Pilapitiya.
The Magistrate observed that he released the suspect on bail because he had surrendered to the police. He said if not he would have ordered him to be remanded.
Further hearing was fixed for June 1.