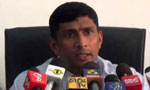 The Government Medical Officers' Association (GMOA) said yesterday that the government should bear the responsibility of any irregularity taken place in the complex process of kidney transplantation.
GMOA Spokesman Dr. Navin de Soysa stated that organ transplantation including kidney transplantation was a complicated process that involved adherence to certain laws and ethics.
Speaking at a news conference on media reports that six cases filed against six Sri Lankan physicians against unethical kidney transplantation, Dr. de Soysa mentioned if the doctors had dishonored the ethics, the Health Ministry should be answerable for it.
"The government should formulate an appropriate criterion to regulate organ transplantation in the country and apt measures need to be taken to continuously monitor the process. If such a methodology was already in operation, then it needs to be updated," he added.
Dr. de Soysa said if any irregularity had taken place in kidney transplantation within the excising methodology, the Health Ministry should initiate an investigation into the plight, and the GMOA was prepared to assist the Ministry when required.
He alleged that a certain website was attempting to create a belief opposing the GMOA based on this incident and the GMOA Central Committee had decided to complain it to the President and the IGP.
In response to a question raised during the conference, Dr. De Soysa said if it was proved that any member of their organisation was involved in the incident, the Central Committee had the right to cancel even his membership.
He stated that a conspiracy was being hatched to defame the Sri Lankan doctors in a situation where the GMOA continuously spoke against the CEPA.
(Ajith Siriwardana)