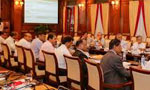 The Cabinet today decided to seek written approval of Karaka Sangha Sabhas, of all the Chapters to the proposed 'Theravada Bhikku Kathikavath' Registration Bill' tabled in Parliament recently, it is learnt.
The bill received criticism from sections of the Maha Sangha, which called it an attempt to impose undue control over Buddhist monks in their activities.
According to the Government the bill was intended to register a discourse among the main Buddhist Chapters to enforce a code of discipline for monks.
It, if enacted, will empower the Mahanayakes to do it. However, the Joint Opposition and Bhikkhu Organisations criticised the move, and dubbed it as an attempt by lay people to control the activities of Bhikkhus.
The Cabinet discussed the matter at its meeting yesterday, and decided to refer the bill for written consent by Karaka Sangha Sabhas of all the Chapters.
"Then only, the government will proceed with it," a government source said.
Every Bhikkhu has to act in compliance with the provisions of the bill if enacted. Violators of its provisions can be punished. The bill seeks to prohibit Bhikkhus from engaging in occult practices, trade and businesses, obtaining driving licenses and engaging in employment in public or private sector other than educational, social and religious services.
Bhikkhus, acting in contravention of the bill's provisions, are subjected to punishments such as expulsion from their temples, the removal of their posts as Chief Incumbents of respective temples.
(Kelum Bandara)