---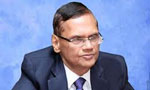 External Affairs Minister G.L. Peiris today met the United Nations Resident Coordinator and conveyed to him the Government's extreme discontent regarding the unprofessional manner in which the investigation on Sri Lanka was being conducted by the Office of the UN High Commissioner for Human Rights (OHCHR).
The External Affairs Ministry said the minister's protest focused on the unacceptable manner in which the October 30 deadline set by the OHCHR for submission of evidence to the investigation had been changed unofficially and reset again.
According to the OHCHR's call for submissions on its website the October 30 deadline was definite and mandatory. However, the OHCHR spokesperson in response to a question from a local newspaper stated that though officially the deadline was October 30 and would not be extended, it was understood that some material might take time to arrive and that submissions arriving late, therefore, would not necessarily be refused.
Corresponding to this comment, the OHCHR website did not announce the closure of the e-mail address for the receipt of submissions even after the official deadline had passed. It was only pursuant to the matter having been taken up very strongly by the Government that the OHCHR later issued a news release announcing that submissions ended on October 30 and that the e-mail address had ceased to exist.
The minister pointed out that what was particularly disturbing was that this development took place while a campaign to collect fabricated evidence was under way in Sri Lanka with the collusion of both local and foreign parties. During this period, evidence was being concocted fraudulently in Sri Lanka on blank sheets of paper, with signatures procured under false pretenses and with financial inducements. One of the main agents in this criminal enterprise was arrested, while another has left the country unlawfully.
The spokesperson's comment indicates that though as far as the general public was concerned, no submissions could be made after October 30, the investigation remained open to receiving a specific category of evidence which seems to have been anticipated. The minister observed that no reasons have been given so far by OHCHR as to what inspired the spokesperson to make a statement that was entirely inconsistent with the OHCHR's original deadline and for the insistence much later, and in response to protests by the Government of Sri Lanka that the submissions had ended on October 30.
Expressing objections to OHCHR's conduct that is inconsistent with essential standards of objectivity and fair play, the minister questioned why such irregular behaviour has to be resorted to in carrying out this investigation which claims to be open, candid and fair.